Papua New Guinea's beauty, danger
http://www.latimes.com/travel/la-tr-png1aug01.story
-Tribal culture and colorful tradition mix with some tense moments on the southwest Pacific island.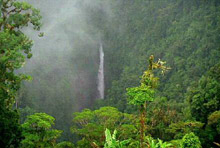 By Mary Altier, Special to The Times

Men painted like skeletons with white paint and charcoal terrorized the crowd with primitive bows and arrows. Mudmen wearing huge heads crafted from dried mud shook weapon-like 6-inch fingernails menacingly.
Forty years ago, visitors had a lot to fear from Papua New Guinea's indigenous groups, who were accustomed to killing and eating one another. These days, though, they have left their age-old rivalries and cannibalistic practices in the past, instead celebrating their disparate cultures. At the annual Mt. Hagen Cultural Festival and Sing-Sing, representatives of the country's myriad tribal groups gather to sing, dance and laugh together, keeping alive their traditions on this remote enigmatic island in the southwest Pacific.

--------------------------------------------------------------------------------
FOR THE RECORD: Papua New Guinea —An article in Sunday's Travel section about Papua New Guinea said that New Guinea was the world's second-largest island after Australia. Australia is a continent. New Guinea ranks second after the island of Greenland.
--------------------------------------------------------------------------------

Papua New Guinea takes up the eastern half of New Guinea island, the world's second-largest after Australia, its geologic cousin about 100 miles to the south. Irian Jaya, which belongs to Indonesia, occupies its western side.
Many visitors travel here for the superb diving and snorkeling, but I came here two years ago to delve into tribal cultures that had intrigued me since a visit to the Indonesian island of Sulawesi nearly two decades ago. Mt. Hagen's August festival gave me an ideal excuse to visit and hopscotch by plane to see the nation's other natural and cultural attractions.
Getting to and traveling in Papua New Guinea is not easy. Outside its capital of Port Moresby, the country has limited tourist facilities and infrastructure, and hotels book up fast during festivals. For convenience, my husband, John, and I booked an unescorted 10-day group tour with 15 other travelers through Trans Niugini Tours, which arranged our transportation, hotels and meals.
Crime was another worry, and we thought we'd find safety in numbers. The State Department, which warns travelers of violent crime against tourists in Port Moresby and in Mt. Hagen, advises against taking public taxis and buses in mostareas of the country and recommends traveling with a group. It was valuable advice: A couple of times, the tour company got us out of potentially dangerous situations.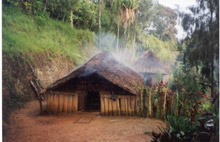 Three colonial powers
We landed in Port Moresby on Papua New Guinea's southern shore and the next morning flew to Mt. Hagen, a Highlands city with a frontier feel. Today, the Highlands is the most agriculturally productive and densely populated area in the country, but it was not until the 1930s that the Western world discovered that the region was inhabited.
Through the centuries, three colonial powers squabbled over New Guinea. By the mid-1800s, the Netherlands controlled the western half of New Guinea, now Irian Jaya, and Britain and Germany divided up the east.
At the beginning of World War I, Australia wrested control of the German part of Papua New Guinea, and six years later, the League of Nations granted it sovereignty over the eastern part. In 1975, Australia gave Papua New Guinea its independence.
Australians first ventured into the Highlands for gold, finding instead verdant valleys sliced by rivers and streams and mountain peaks such as the 14,880-foot Mt. Wilhelm. Here, as they had for thousands of years, women tilled the fertile soil by hand, planting sweet potatoes and greens; warriors painted in fierce colors and markings protected them.
But life is not so bucolic in Mt. Hagen, an unattractive, sometimes unruly town. We settled into the simple, motel-like Kimininga Lodge, which was less than a mile from the Sing-Sing, the celebratory dance and festival that would begin the next day.
Early Saturday morning, we found only a few performers when we arrived at the muddy festival grounds. Soon, people hauling cardboard boxes filled with cowrie shells and tropical bird feathers came trudging slowly across the rain-soaked field. We watched as they painted their faces and bodies in bright pigments and adorned themselves with large shells and plumage in primary colors.
Men peered into broken shards of mirror as they transformed themselves. Wives straightened their husbands' long tails made from the feathers of the endangered bird of paradise. Parents dressed and painted their children. Then each troupe lined up under signs handwritten with the names of their groups and waited.
Suddenly, the ground shook with the pounding of bare feet and the rhythm of chanting and hourglass-shaped kundu drums covered with lizard or snakeskin. We watched as the first group danced into the informal arena.
They were followed by rows of armed warriors, who swept across the field in a nearly impenetrable line. They simulated battles they had fought through the ages, though at the end of the day, the fierce combatants put down their spears to accept orange Popsicles handed out by volunteers.
There was a palpable sensation of tribal and clan loyalty. Even after the festival ended, the dancing and singing continued for several hours, the field vibrating with chants and drums.
Over the course of two days, more than 30 troupes filed onto the field, representing the country's four regional groups: Papuans from the south, New Guineans from the north, Highlanders from the mountains and Islanders from its 600 smaller islands.
Papua New Guinea's 5 million people speak about 715 indigenous languages. English is spoken by less than 2% of the population, and its lingua franca is Melanesian pidgin, a 1,500-word trade language mainly derived from English.
As we traveled around the country, John and I had fun trying to decipher it. "Thank you very much" is tenkyu tru and a trivial matter is samting nating (something-nothing). We saw a sign at Mt. Hagen's airport as we waited for a charter flight to Amboin: "Luk aut pawa masin ken kirap anitaim" — "Caution generator starts automatically."
Downriver in a canoe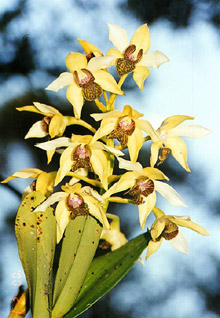 In less than an hour, a young Nepali pilot flew us in a nine-passenger plane northwest to a grassy airstrip at Amboin, an outpost near the Sepik River, a tropical lowland with villages little changed by modern development. We stayed at Trans Niugini Tours' luxurious Karawari Lodge, which had dramatic views of the jungle and the Karawari River, a tributary of the Sepik.
The lodge had an excellent selection of handicrafts for sale, and I couldn't resist a necklace made from a kina shell, a large crescent-shaped, gold-hued shell that was once the region's currency.
After lunch, with the sultry, humid air clinging to us like a wet blanket, we went downriver in a dugout canoe for the first of many visits to riverfront communities.
At Yimas, I saw an amusing instance of worlds colliding as local teacher and community leader Lawrence Doming, wearing face paint and little else but jewelry, chatted on high-tech topics with my software engineer husband, who wore a golf shirt and shorts. They swapped business cards and shook hands.
The next morning, we again boarded canoes to visit other riverside villages. At the Amboin Primary School, students sang and danced for us then presented us with handmade garlands of jungle flowers. The 10-year-old daughter of Chris, our guide, was one of the performers.
At Kundamam, we watched locals prepare sago, one of their staple foods. It was a labor-intensive process that made me thankful for grocery stores: First, they cut down and split a sago palm tree, then took the pulp from inside, washed it and pounded it into a flour that they liquefied with water. The batter is used to make porridge and pancakes, which I found bland and starchy. I preferred our packed lunch of curried yam salad, fish and fruit.
Next, we visited Amangavi II, a village where locals wearing traditional dress and face paint welcomed us into their Spirit House, a sacred place usually off-limits to tourists. At Konmei village, we watched artisans craft the kundu drums that we had seen at the Mt. Hagen Sing-Sing.
After two nights at Karawari Lodge, we were supposed to fly to Tari, a small Highlands town that's little more than an airfield, a few shops and a post office. From there, we should have been bused to Ambua Lodge, but a group of armed rascals angered by local elections had taken over the airport and hijacked Tari's one police car, so the tour company flew us to Mendi, the capital of the Southern Highlands, then helicoptered us to Ambua Lodge. The short, unplanned helicopter flight low over the rich green Highland hills was one of the trip's highlights.
The segregated Huli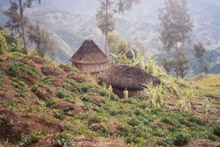 Ambua Lodge is Trans Niugini Tours' most spectacular property, with round thatched-roof cottages cascading down a steep hill. Here, I had hoped to get a closer look at the Huli Wigmen, who live in villages dotting the rugged Highlands. And sure enough, stocky, well-muscled Wigmen had trekked from their remote settlements to perform for us at the lodge.
They put their gear in the lodge's parking lot, painstakingly painted their faces with red and yellow ocher and adorned themselves with feathers, fur, bands of snakeskin and cassowary quills through their nasal septa. With delicate red and yellow daisies, they decorated the matted hair wigs that looked like Napoleonic hats gone wild.
Huli life is segregated. In every village is a women's hut — they tend the pigs, the families' most important assets, which sleep in the houses — and a men's hut, where they live together and govern the village. The Wigmen believe that female contact diminishes their strength and male status.
One young Wigman proudly told us that he had gone to live in the men's house when he was 6 years old and had not eaten food cooked by women since then because the men believed it was unclean.
Howard, a Wigman and our excellent guide, did not seem to worry about being contaminated by contact with women. He took us out before dawn the next morning to try to spot the highly endangered bird of paradise. Papua New Guinea has more than 700 bird species, and 38 of the world's 43 species of bird of paradise are found here. The males proudly wear the brilliant plumage. Look for long iridescent tails, Howard told us, and with his help, we spotted one a long distance away.
When we returned to the lodge, lunch was ready. As we dined on pork, cabbage, watercress and sweet potatoes, all cooked by hot rocks in an underground oven, or mumu, I kept hearing soft animal noises. I asked the waitress what it was. "Oh yes," she said. "We are playing our CD of bat sounds."
Teeming coral reefs
The following day, we were bused over an unpaved, rutted road to Tari to catch a charter plane for Madang, a scenic coastal town. But when we got to Tari, we found an abandoned, looted and burned town and no plane. With a machete-wielding Wigman perched at the door of the van, our driver kept circling the airport until the plane arrived. Relieved to see it, we quickly scrambled aboard.
Madang's best attraction is not tribal arts, but the sea. The area, surrounded by reefs and wrecks, is renowned among divers, and we learned why as we snorkeled in its clear turquoise waters. It teems with fish and coral species. Hundreds of wrecks, many of them from World War II, have been transformed into coral reefs.
John went off to snorkel, and I visited a small coastal village with a guide. During an informal tour of the jungle, I learned which plants the locals use for birth control, pain and as an antidote to the bite of the deadly black adder.
Chatting with the guide, I told him I had attended the Mt. Hagen Cultural Festival a few days earlier. His eyes lighted up. He and his family had danced in the performance.
As we parted, I shook his hand and tried out a pidgin phrase — Mi laikim yu tru — "I like you very much."
— Mary Altier