Location and Size
Papua New Guinea is located on the eastern half of the island of New Guinea and is 160 kilometers north of Australia. The western half of the island is Irian Jaya, a province of Indonesia. Papua New Guinea comprises both the mainland and some 600 offshore islands. It has a total land area of 462,800 square kilometers and is about the same size as Thailand.
The country is relatively young and its geography is diverse which is characterized by high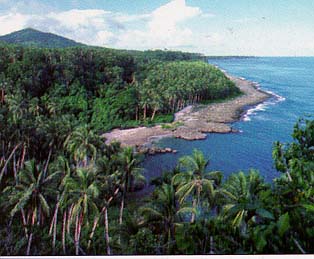 mountain ranges, deep valleys and swift rivers in the interior and open plains, tropical forests and swampy inlets in the coastal region.
Located just south of the equator, Papua New Guinea experiences a moderate tropical climate with high levels of seasonal rainfall. In the highlands temperatures can range from a low of four degrees Celsius to a high of 32 degrees Celsius. The lowland, coastal and island areas have an average daily temperature of 27 degrees Celsius.
Papua New Guinea has a population of over 4.4 million people (using 1997 projections by the National Statistical Office). The majority live in the highland valleys, many in isolated villages. Apart from the National Capital District (NCD), population density is relatively low.
Around 15 per cent of the population live in the major urban areas. The major city and capital of the country is Port Moresby with a population of about 271,813. Other large towns and cities include Lae, (population 113,118), Madang (32,1171), Wewak (25,143) and Goroka (17,269).